POST RECORD STORE DAY
Another Record Store Day has come and gone and we all survived. Down here at the shop we were happy to see that everyone seemed to find most of what they were looking for and to those who got skunked we apologize but as we've all heard over and over again, we ordered it all and we got what we got. The crowd was soothed by the sounds of DJ Mantease and as our friends at Aquarius Records reminded everyone, we stock limited and hard to find shit EVERYDAY, not just in April. That being said, we had a blast checking out everyone's purchases and trying to answer questions, can't wait for next year.


NUMERO'S GOLDEN TICKET
Reason number 5,723 we love these guys. After Record Store Day ended, news came out that 10 of the 300 cassettes released for Record Store Day were gold colored. The lucky winners of the golden tickets receive an even more limited 45 as a special Record Store Day gift! Featured on
Numero Group's blog
, check out the photo of our lucky customer Jonathan Webster, who won himself an uber rare Reverb Lmt. 45!


REGGAE ON THE RIVER TICKETS
Get a firm grip on your seats before reading this next part, we're going to
Reggae on the River
. Now on sale at the shop, tickets to this year's event are only 95 bucks and the lineup includes Seun Kuti and Africa 80!


ArtsArcata WITH JEFF JENSEN
Come see us May 13th for Arts Arcata with this month's artist/musician Jeff Jensen. Our walls will be filled with Jeff's woodcuts and our store will be filled with the sounds of him and his band-mates The No Good Redwood Ramblers.
FREE COMIC BOOK DAY
May 7th marks the yearly Free Comic Book Day! and since the big boys won't let us play in their sandbox without spending $1,000, we're throwing our own party. Come check us out the first Saturday in May and we'll have comic book buttons courtesy of Daisy Drygoods, on-sale graphic novels for the snagging as well as a box full of free comics at the counter. Anyone who walks through the door is encouraged to grab a free issue. Make sure to visit
Northcoast Roleplaying
for official Comic Book Day stuff and when you're done, head over to the kid's table where we'll be flinging spoonfuls of casserole and prostrating ourselves before a stone idol of Jack Kirby.

!NEW STUFF!
ODDFUTURE
Oddfuturewolfgangkillthemall. Where to start with these guys? A Hip Hop collective out of L.A. featuring leader Tyler, The Creator and members Earl Sweatshirt (quite possibly our favorite rap moniker of all time), Hodgy Beats, Domo Genesis, Mike G, singer Frank Ocean, producers Left Brain, Syd tha Kyd (who is also the group's engineer) and the Super 3 and other non-musical members. Crazy ass skate kids who's live shows bring to mind the energy of early Bad Brains or other D.C. hardcore bands. With a gravel tongued swagger we haven't seen since early Wu-Tang releases, Tyler is set to drop his debut album Goblin sometime this May. While we could do without the F bombs...and we don't mean Fuck, this is some next level shit that west coast hip hop desperately needs. Check out the self released video for his single "Yonkers"
HOLLY GOLIGHTLY & THE BROKEOFFS "No Help Coming"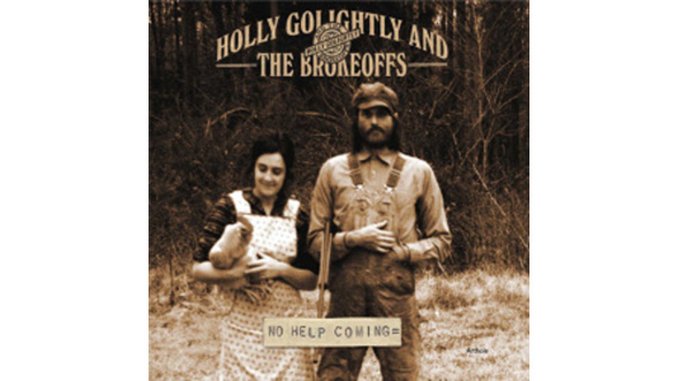 We're not gonna lie, we have a big ole' crush on Ms. Holly and love pretty much everything she does. Hell, Adam even danced his first wedding dance to a Holly song. This new album, on brown swirl vinyl, is a shot in the arm of blues, country and rock that promises to take over our record player for at least the rest of this week. While not straying too far from the last couple of releases she's done with her man Lawyer Dave they switch it up enough to make it interesting. Even throwing in a cover of a Wavy Gravy song "L.S.D. made a wreck of me". WE LOVE HOLLY GOLIGHTLY!!
OCHESTRE POLY-RYTHMO "The Cotonou Club"
Their first album in twenty years, recorded on all analog equipment in Paris, hail the latest album from musical legends Orchestre Poly-Rythmo. Released on Strut Records, this heavy double Lp sees not only revamping of old material but new songs and guest spots by Angelique Kidjo and Franz Ferdinand!
LEFT LANE CRUISER "All You Can Eat"
This was a staple of the tour van during Radio Moscow's last European tour. A mix of honky-tonk, hard rock and slide guitar influenced by Mississippi bluesmen, Left Lane Cruiser stays in the vein along with duos like Hillstomp and Doo Rag but puts the pedal to the metal when the goin' gets loud. Their new album, released in March of this year on Alive, was partially recorded by labelmate John Wesley Myers, of The Black Diamond Heavies.

THE ROCK A TEENS "Woo Hoo"
Uncovered on one of Adam's digging trips, the story behind this band is a sad and all too repeated tale in musical history. These boys wrote a hit number called Woo-Hoo, were threatened with a plagiarism lawsuit from another artist so they sold the rights to their producer for pennies. What they didn't know was that their producer had already brokered a deal to sell the song to Roulette for a tidy profit. The band recorded one album after the single's success but then faded into obscurity. This is the song from Kill Bill that launched the 30 second fascination with the 5678's...but better.
LOCAL COMIC!
We're excited to highlight a local comic in our blog this month! Created by local Brother and Sister Team , Coin-Op is printed right here in town by Bug Press. The layout is grabbing, the colors vibrant and the stories a sort of comic strip meets ZAPP, with art that brings to mind the work of R. Crumb and Moscoso. Come check it out, as each issue is published in a limited run.
That's all for now everyone, we've got lots of records to price and sweatshirts to take to the printer. Don't forget to come out and catch Frank Fairfield at the Jambalaya May 10th and until then, catch you next time.
keep diggin' those crates
--Matt n Adam.