It's another amazing sunny day here in Humboldt County but don't let it surprise you, the rapture is coming. You only have until May 21st to finish those post-apocalyptic comp. tapes to play at your end of the world party. Remember when the looting starts on the 22nd, we've always treated you with respect...also, Maynard is trained to go for the throat. Since sunny days in Humboldt mean everyone heads for the beach, the forest, or the river, we're spending our leisurely afternoon at the shop compiling a list of things we've discovered about our dying world from behind our little counter these last two years.
* Visa is Metal
* Agility is directly correlated to body hair
* There is NOBODY sadder than Andy, the saddest Hobo in town.
* The secret to turning around the slow economy is to "phase out the pipes that look like wieners."
* Dubstep is alot like helium, but more effective at killing braincells.

!!NEW STUFF!!
NEW BEASTIE BOYS
So we've been fielding alot of calls from customers wondering what's up with the new Beastie Boys album and so we thought we'd take a minute to sit right there and tell you how we became the store where the shopkeepers care. Despite releasing the cd version of "Hot Sauce Committee Part 2" on the 3rd of May, turntable enthusiasts will have to wait until June 21st until we get our shot at the album. The album, originally intended as a 2-part'er, has been restructured after the band discovered that Adam Yauch had developed cancer in his salivary glands. Here's their newest video entitled, "Make Some Noise."
FRANK FAIRFIELD

"Out on the Open West"

May 31st
Frank Fairfield is a genuine musician. Strip away all the interviews about his 78 collection and articles praising his "old soul" and there remains an awkward yet talented young man who enjoys a pair of slacks. After wearing a hole in not one but two copies of his first release, we're chomping at the bit to get our hands on this new one. Complete with original songs and guest appearances by Blind Boy Paxton, The Petrojvic Brothers and more, "Out on the Open West" shows just how far this man has come as an interpreter of Popular American songs. Enjoy the link to preview a track early, or click below to see a short video highlighting some of what Frank is about.
FRANK FAIRFIELD "POOR OLD LANCE"
CHARLIE PARR

"When the Devil Goes Blind"

OUT NOW
From Austin, Minnesota comes Charlie Parr. With nine full length albums and countless collaborations under his belt, as usual we are a little late to the game. Damn have we been missing out. One part banjo wizard, one part 12 string slinger, and one part slide master, Charlie's songs do justice to that old sound with out simply aping old recordings. With a gravel voice and lightning fast hands he could be from an earlier time, but lie's firmly in the present. Do yourself a favor and pick up his latest "When the Devil Goes Blind", Adam has been annoying Jackie with this one on repeat for at least the last three weeks.
MICHI SARMIENTO

"Y Su Combo Bravo"

OUT NOW
Already this album is in the running for our summertime soundtrack. Soundway Records supplies us with another collection of killer Cumbia. Even if you can't dance, this double LP will make your inner ass shake and move and while you may not understand all the words, this record will endow you with the three things a bum from Trinidad told us make up the secrets of life, "makin' shakin' and gyratin'"
SEUN ANIKULAPO KUTI

"From Africa with Fury: Rise"

OUT NOW
Appearing at this year's Reggae On The River, the son of legendary performer Fela Kuti hits us with a double 12" with 8 tracks in all. After hearing the amazing drumming, infectious choruses and blazing horns on this one, we think you'll agree that the apple doesn't fall far from the tree. Pick up a copy so you'll know how amazing it will be to see these guys at this year's Reggae on the River.
DENNIS COFFEY

"Self Titled"

OUT NOW
Thank you Strut Records for another killer release to kick off our summer! A double LP featuring amazing guests like Mick Collins (The Dirtbombs) and Rachel Nagy (The Detroit Cobras) covering Funkadelic's "I'll Bet You," Fanny Franklin (Orgone) singing Wilson Pickett's "Don't Knock My Love" and Lisa Kekaula (The Bellrays) taking on 100 Proof's "Somebody's Been Sleeping." If you aren't already familiar, this man is a former member of the Motown legends The Funk Brothers and helped create the theme to one of our favorite films, "Black Belt Jones." As the weather heats up, this collection of killer tunes are just the thing to blast on your way to the river. Check out one of our favorite tracks, "Miss Millie," backed up by the amazing funk purveyors, Kings Go Forth.

MAN MAN

"Life Fantastic"

OUT NOW
Frantic yet poetic, Man Man and their catchy harmonized howlings have always had a place on our CD racks. After being slightly disappointed in their last album, the plucky Pennsylvanian four piece returns with their Viking-vaudeville sound for another go. This new album has a bit of MGMT added in with their unique sound and although their albums never quite capture the live performances, this new album is another great addition to the upcoming summer.
!!COMICS!!

ULTIMATE X-MEN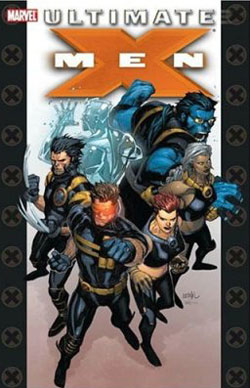 So, admittedly I'm an X-geek. Though many titles caught my attention while I was growing up, it was bald headed Chuck and the gang that never failed to take my $2.75 every month. That being said, I consider myself fairly skeptical at the different veins and directions the stories have taken nowadays. Most X-titles confuse the hell out of me now and force me to spend time on wikipedia before re-reading them in order to understand a storyline that, in the end, doesn't even interest me. Ultimate X-Men however is not just another X-title. With the 'Ultimate' series, Marvel has offered creators a chance to re-write history and shape a different path without relying on the "What If" prefix. More than just a cheap rehashing for cash, these novels re develop the characters, offering glimpses into possibilities many Marvel readers have written countless letters to see. My only complaint with the series is that the art switches in a few of the later issues to a far too cartoony style that overly emphasizes the real-life-kids aspect that this 'Ultimate' series seems to keep as its backbone, which sometimes threatens to turn action into the Wonder Years. -Matt

!!EVENTS!!

FLAMING LIPS & PRIMUS
We just got tickets for this year's
Harmony Festival
here at the shop and we were uber surprised to see the headliners. Happening June 10-12 at the Sonoma County Fairgrounds, start checking the Co-op board now for your ride bro.
Tickets
are on sale here in all shapes and sizes ranging from weekend passes to single all day or night admission.

HUMBOLDT FOLKLIFE SOCIETY'S FOLKLIFE FESTIVAL
Happening July 16th through the 23rd, The Humboldt Folklife Society are presenting another jam packed week of Roots music! This year will even feature a Country Music night at the Dell Arte Theater and a jazz night co-sponsored by the Redwood Jazz Alliance. Tons of amazing local talent will be out for this family friendly week of events so check out more while visiting their website by clicking
HERE
JEFFERSON STATE OLD TIME REVUE
July 23rd will be hopping! After you've had fun all day at the closing of the Folklife Festival, come join us at the Arcata Playhouse for the 2nd of our Festivals promoting country, bluegrass & old time music. Featuring an expanding lineup of talented musicians from all over the country, we're getting everything together for a real barn burner this year. Beer and Food will be sold onsite as well as a costume corner from new local business BANG BANG. Below you'll find links to the Facebook page, as well as some of this year's musicians.
*
facebook
*
The Brothers Comatose
*
Lana Rebel
*
Pokey LaFarge & The South City 3
*
Striped Pig Stringband
*
The Unidentified String Band
*
The No Good Redwood Ramblers
That's all for now, make sure to stop by and say hello when you're in town.
keep diggin' those crates
-- Matt n Adam