Well we opened the doors, and while we may not have all the nails hammered down but we do have a killer stock of records, cds and graphic novels to come out swinging. Don't forget us this holiday season, as you do the shopping for the music nerd on your list, we've got gift certificates, new Missing Link gear and a slew of sale items for this Festivus. First though, let's talk about some new stuff that just came in the doors this month.
The Extra Lens (John Darnielle & Franklin Bruno)
"For a band that's been around, on and off, for almost 20 years, The Extra Lens has kept a pretty low profile. Then again, "low profile" is pretty much the best way to sum up Undercard, the band's second full-length, and its first since 2002's Martial Arts Weekend. Originally known as The Extra Glenns, the duo of The Mountain Goats' John Darnielle and Nothing Painted Blue's Franklin Bruno sounds exactly like a mix of those two projects, but where Martial Arts was more of a slapdash, punk-folk affair, Undercard peddles in a more mature, assured—though no less skeletal—kind of songcraft. With an acoustic-plus-distortion-plus-piano approach that recalls Billy Bragg's early work..." -Jason Heller (The Onion A/V Club).
Psychedelic Aliens "Psycho African Beat"
We've been waiting a looong time for this one to hit wax. Sometimes known as The Magic Aliens or just the Aliens, the three short years these amazing musicians were together produced eight of the funkiest afro-psych tracks of their time. It took Frank Gossner, of Voodoofunk.com, an amazing 4 years, 9 visits to Ghana, and dozens of newspaper advertisements to track all 24 minutes of this music and serve it up to the salivating record dork community. Full of fuzzed out guitar and farfisa, one of the awesome things we discovered about this LP is that it's just as fun on 33 as it is on 45!
South Memphis String Band "Home Sweet Home"
Luther Dickinson (from the North Mississippi Allstars), Alvin Youngblood Hart (the great modern bluesman) and Jimbo Mathus (of the Squirrel Nut Zippers), three talented musicians with a love for old time music, who've teamed up to create a trio of palpable proportions. They ve been called a regional rorots music supergroup by some reviewers but the alliance of Dickinson, Hart and Mathus is more like three good friends attempting to preserve and revive the great jugband/stringband traditions of the deep south.
Orgone "Cali Fever"
A new release from one of what we consider to be a majorly understated band of today. Hailing from the capital of Southern California, the members of Orgone have been up to Humboldt a handful of times now with less of a local response than we'd expect from such a killer funk band. With a lightning percussion section and the classic wah'd out guitar backing a strong female lead vocal, this band could turn a into a dancefloor. With their latest release, Cali Fever, the band expands into a more world beat feel, creating a sound similar to bands like The Daktaris or El Michels Affair.

UNCLE MATT's SOUL CORNER
A new section for the store is Uncle Matt's Soul Corner, where you'll find cd versions of the amazing soul that hasn't reached wax yet. We devote so much attention to our beloved wax (such as the few copies of Tear-Stained Soul we just found on LP), that we thought the CD-minded should get some of our love and affection too. This week, we're turning our attention to a release that costs a whopping 55 smackers for the vinyl-minded but costs your compact disk budget a mere dollars,
"The Northern Soul Story Vol.4 - Wigan Casino."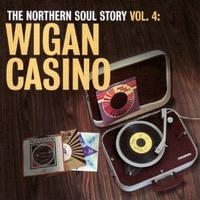 A nightclub in Lancashire England, from 73-81 Wigan Casino was one of the premiere spots for northern soul music and was voted the World's Best Venue in 1978 by Billboard Magazine,beating New York's Studio 54. The Club closed December 6th 1981, the final night of Wigan Casino, the crowd refused to leave, so according to the DJ, to "break this spell of hysteria" he picked a 7" at random from his box and played that. This final Wigan Casino song became one of the most famous northern soul songs of all time, Frank Wilson's "Do I Love You (Indeed I Do)".
MISSHAPEN BUT STILL COOL
Another of our new sections, these are cds that were to oddly sized to fit in the racks but still deserve all the attention their uniformally shaped brothers and sisters do. This month it's a killer lesson in music history from the guys at Honest Jons,
Living is Hard: West African Music in Britain,927-29
.
Made in London, these recordings were issued originally by the Zonophone record label. The first West African Zonophone recordings date from 1922, when the Reverend J. J. Ransome-Kuti — Fela's grandfather — traveled from Nigeria to Britain, to record Christian hymns in Yoruba. The tracks on this release are all over the map, with guitar/vocal pieces, drum ensembles, bizarre growled vocal performances and large ensemble piece. The folks over at Honest Jons have worked hard to make this an album that musically portrays a snapshot in time, with as little left out as possible and we here at Missing Link tend to think they did a damn fine job. Not an album that will overtake you upon first listening, this is more like one of those musical history lessons that, over time, become some of your most treasures comp. gems. Click below for a sample.
George Williams Aingo -
Akkuo Nu Banto
GRAPHIC NOVELS
With the new store, we're expanding our graphic novel section with alot more new and used stuff for the superhero inclined. This month's feature is Batman: Secrets, drawn and written by Mr. Sam Kieth. The artist behind some of the largest and most grizzled looking incarnations of Marvel heroes, as well as the highly successful book/tv show The Maxx, turns his attention to the Dark Knight and the Joker in dark story about childhood trauma and media exploitation.
When Joker convinces a parole board to let him back on the streets, he resumes his old life, only to have a confrontation with Batman misleadingly captured on film and sold to the tabloids. Making the most of this, the Joker attempts to turn the public on Batman with the help of his unconventional new sidekick. Written shortly after the Killing Joke, this has a concentration on the whole Joker/Batman, Holmes/Moriarty situation but focuses more on the two's confrontation of their inability to exist without the other to validate their own existence...woah, heavy.
NEW SWEATSHIRTS AND STICKERS
The new Missing Link sweatshirts are coming in this week! Featuring our brand spanking new address on the back, these zip up hoodies come in Black or Blue and have our logo on the back, drawn by Lush Newton (voted Humboldt County's Best Artist 2010)! Also coming soon are the new bumper stickers featuring the phrase "iBUYVINYL" for only a buck! Also, as we keep moving into our new home, expect to see wooly bigfoot socks, gnome socks, missing link slipmats and more!
DESIGN COMPETITION
As part of the celebration around our new store we're going to do a limited run of sweatshirts featuring designs from our favorite artists and we'd like to include you in on the deal too! If you have a Bigfoot/Record design that you want to hand in, we'll be taking online submissions until the end of January and announcing the winner February 1st. The lucky winner will walk away with a seventy-five dollar gift certificate to Missing Link, a special version of their artistic apparel and a hand picked gift from Adam and Matt.
PARLIAMENT lp AUCTION
Recently, a good customer of ours found herself injured and faced with some fun medical bills. Since we all know money doesn't grow on trees...yet, we here at the shop are doing a little something in the holiday spirit. Through the end of January we'll be holding a raffle to auction of a Parliament Motorbootyaffair picture LP. These little beauties are becoming harder and harder to find plus, let's face it, who doesn't need George Clinton in Alpaca chaps, water-skiing behind two dolphins? To enter, just buy a raffle ticket for 5.00 and drop it in the bucket with your name, number and email. All proceeds go towards this Arcatan's medical expenses, (for privacy sake we're not saying who but trust us we ain't lyin'). The first week in February we'll draw the winner out and post it on the blog, as well as call that person immediately. Out of town entries count as well, if you want to use paypal, so don't feel shy Jeff Myers or Mike Mannix.
That be all for now music lubbers, make sure to stop by and see our new digs, pet the cat and make goo-goo noises at Henry. So, until then,
Keep diggin' those crates
--Matt n Adam