Garyfest 2011 day 24, a glorious day here at the shop as a whole slew of new orders roll through the door and some things we never thought would ever materialize! Between R. Crumb's "Hot Women" collection, Thee Vicars, Nigeria70, it's amazing we can even manage to throw things into the racks instead of our hold piles. What's our secret for keeping our racks and your racks stuffed? ordering more than one. Each new order we each make a tough choice of what one record to keep for our own collections and this week it's a tie between falling in love with your own choice and coveting thy neighbors'
MATT's PICK
Angola Soundtrack
"Angolan music is truly unique and stands on its own as a sound that can only be found in that part of the world...superbly melodic, highly danceable, hypnotic, raw, quintessentially beautiful - and totally addictive. From the nine Analog Africa releases thus far, 'Angola Soundtrack' has been the most difficult to create." --taken from the
Analog Africa blog
ADAM's PICK
Mighty Mike Lenaburg
Eccentric Soul: Mighty Mike Lenaburg chronicles Phoenix, Arizona's off-"Funky Broadway" scene that happened while Dyke and his Blazers were setting national charts on fire in the late '60s/early '70s. Covering Tejano psych, flute funk, both horny soul and horny kid soul, cackling R&B, deep ballads, and fist-fight doo-wop." --taken from the
Numero Group website
.
OTHER NEW TITLES
The Decemberists "The King is Dead"
Ebo Taylor "Love and Death"
Analog Africa "Afro Beat Airways"
COMING JANUARY 25TH
Iron & Wine "Kiss Each Other Clean"
Deerhoof "Vs Evil"
Carolina Chocolate Drops "Luminescent Orchestrii"
Monotonix "Not Yet"

COMING FEBRUARY 15TH
A Hawk & A Hacksaw "Cervantine"
Mogwai "Hardcore Will Never Die But You Will"

NUMERO EXPLOSION
Our giant order is in from Chicago and we spent the day building our Tower of Numero! and if the legends are correct, all 39 pieces combined build a tower of Babel to musical heaven. I know we're super excitable about everything we stock around here but we can't say this enough times, "there isn't a bad Numero Group release." Anything you buy from these guys is a hit as far as we're concerned, be it obscure Psych-Folk from 70's Illinois, the soundtrack to a never released blacksplotation movie or a label that died because their president ran off with the cash, it's more than a record it's a lesson in music history.

GRAPHIC NOVEL
(Although I'm usually reviewing our rack for the blog, this one is such a favorite of Adam's that I had to ask he write the review for
Marvels
, the graphic novel that got him reading comics again. --Matt)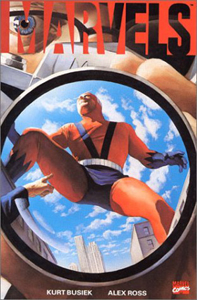 Marvels
What goes through the mind of the average Joe when superhuman freaks smash the shit out of your city. Told from a humble reporters point of view, this story is full of real emotion, fear, hate, love and wonder. The type of things we would all experience if you were to look up in the sky and see The Human Torch(a man engulfed in flames) trading blows with Prince Namor (the ruler of the supposed mythical Atlanteans). Drawn by one of our favorite artists Alex Ross, this book ended a ten year comic drought for me, and is a must read for any comic nerd lapsed or otherwise.
(With a price tag of twenty bucks, we here at Missing Link think you should only have to pay 15...take that comic code.)
More to come in the next week or two, make sure to stop by the shop and snap up one of our new bumper stickers featuring our new slogan
keep diggin' those crates
--Matt n' Adam